PRINCIPAIS PROTOZOÁRIOS ENTÉRICOS OPORTUNISTAS ASSOCIADOS À AIDS: CRYPTOSPORIDIUM PARVUM, ISOSPORA BELLI, CYCLOSPORA CAYETANENSIS E MICROSPORIDIA
Palavras-chave:
HIV, aids, parasitas oportunistas, protozoários emergentes
Resumo
Introdução: Estima-se que há mais de 33 milhões de casos de aids em todo o mundo. Nesse contexto, algumas parasitoses emergem como problemas de saúde pública, aproveitando-se da suscetibilidade decorrente desse quadro clínico. Objetivos: Elencar e discutir as principais parasitoses oportunistas encontradas em indivíduos portadores de aids, explorando os ciclos de vida de seus agentes, patogenia, manifestações clínicas, prevenção, diagnóstico e tratamento. Métodos: Foram realizadas buscas, sem limites temporais, nas bases de dados virtuais Public Medline (PubMed), Scientific Electronic Library Online (SciELO) e Biblioteca Virtual em Saúde (BVS) a fim de selecionar relatos de caso, boletins epidemiológicos, trabalhos experimentais e revisões de literatura pertinentes. Resultados: Entre os principais parasitas oportunistas encontrados em pacientes portadores de aids estão os microsporídios e coccídios como: Isospora belli, Cyclospora sp. e Cryptosporidium sp., para os quais foram realizadas revisões sistemáticas de literatura neste artigo. Conclusões: É evidente a imprescindibilidade do desenvolvimento de tratamentos mais eficazes e com menores efeitos adversos, além de uma maior acurácia de diagnóstico por parte dos profissionais de saúde, e rastreamento ambiental pelas instituições competentes.
Downloads
Não há dados estatísticos.
Referências
Lewis DA. Review of the book A history of the African AIDS epidemic. Sex Transm Infect. 2006;82(3):266.
Biswas MHA. AIDS epidemic worldwide and the millennium development strategies: a light for lives. HIV AIDS Rev. 2012;11(4):87-94.
Lawn SD, Török ME, Wood R. Optimum time to start antiretroviral therapy during HIV-associated opportunistic infections. Curr Opin Infect Dis. 2011;24(1):34-42.
Smith E. Dawning answers: how the HIV/AIDS epidemic has helped to strengthen public health. J Epidemiol Community Health. 2004;58(4):355.
Bonnet F, Chêne G. Evolving epidemiology of malignancies in HIV. Curr Opin Oncol. 2008;20(5):534-40.
Feinstein MJ, Bogorodskaya M, Bloomfield GS, Vendanthan R, Siedner MJ, Kwan GF, et al. Cardiovascular complications of HIV in endemic countries. Curr Cardiol Rep. 2016;18(11):113.
Bitew H, Andargie G, Tadesse A, Belete A, Fekadu W, Mekonen T. Suicidal ideation, attempt, and determining factors among HIV/AIDS patients, Ethiopia. Depress Res Treat. 2016;2016:8913160.
Caceres NA, Vieira MMC, Vieira IF, Monteleone VF, Moreira Neto LJ, Bonafe S. Opportunistic infections in AIDS patients. Arch Med. 2015;7(5):1-17.
Sandhu A, Samra AK. Opportunistic infections and disease implications in HIV/AIDS. Int J Pharm Sci Invent. 2013;2(5):47-54.
Benamrouz S, Conseil V, Creusy C, Calderon E, Dei-Cas E, Certad G. Parasites and malignancies, a review, with emphasis on digestive cancer induced by Cryptosporidium parvum (Alveolata: Apicomplexa). Parasite. 2012;19(2):101-15.
O'Hara SP, Chen XM. The cell biology of cryptosporidium infection. Microbes Infect. 2011;13(8-9):721-30.
Ferreira MS, Borges AS. Some aspects of protozoan infections in immunocompromised patients: a review. Mem Inst Oswaldo Cruz. 2002;97(4):443-57.
Widmer G, Sullivan S. Genomics and population biology of Cryptosporidium species. Parasite Immunol. 2012;34(2-3):61-71.
Shirley DA, Moonah SN, Kotloff KL. Burden of disease from cryptosporidiosis. Curr Opin Infect Dis. 2012;25(5):555-63.
Ryan U, Hijjawi N. New developments in Cryptosporidium research. Int J Parasitol. 2015;45(6):367-73.
Bouzid M, Hunter PR, Chalmers RM, Tyler KM. Cryptosporidium pathogenicity and virulence. Clin Microbiol Rev. 2013;26(1):115-34.
Assis DC, Resende DV, Cabrine-Santos M, Correia D, Oliveira-Silva MB. Prevalence and genetic characterization of Cryptosporidium spp. and Cystoisospora belli in HIV-infected patients. Rev Inst Med Trop Sao Paulo. 2013;55(3):149-54.
Sponseller JK, Griffiths JK, Tzipori S. The evolution of respiratory Cryptosporidiosis: evidence for transmission by inhalation. Clin Microbiol Rev. 2014;27(3):575-86.
Patricia Neira O, Elizabeth Barthel M, Gonzalo Wilson L, Nelson Muñoz S. Infección por Isospora belli en pacientes coninfección por VIH. Presentación de dos casos y revisión de la literatura. Rev Chil Infect. 2010;27(3):219-27.
Lindsay DS, Dubey JP, Blagburn BL. Biology of Isospora spp. from humans, nonhuman primates, and domestic animals. Clin Microbiol Rev. 1997;10(1):19-34.
Frenkel JK, Silva MB, Saldanha JC, Silva-Vergara ML, Correia D, Barata CH, et al. Extraintestinal finding of Isospora belli unizoic cysts in a patient with AIDS: case report. Rev Soc Bras Med Trop. 2003;36(3):409-12.
Yazar S, Yalcln S, Sahin Í. Human cyclosporiosis in Turkey. World J Gastroenterol. 2004;10(12):1844-47.
Mezzari A, Antunes HBB, Wiebbelling AMP. Cyclospora cayetanensis, um novo protozoário a ser pesquisado. Rev Ass Med Brasil. 1999;45(4):347-8.
Ortega YR, Sanchez R. Update on Cyclospora cayetanensis, a food-borne and waterborne parasite. Clin Microbiol Rev. 2010;23(1):218-34.
Chawla R, Ichhpujani RL. Enteric spore-forming opportunistic parasites in HIV/AIDS. Trop Parasitol. 2011;1(1):15-9.
Arora DR, Arora B. AIDS – associated parasitic diarrhoea. Indian J Med Microbiol. 2009;27(3):185-90.
Weitz Vattuone JC, Carolina Weitz R, Marilena Canales R, Ruy Moya R. Infección por Cyclospora cayetanensis: revisión a propósito de tres casos de diarrea del viajero. Rev Chil Infectol. 2009;26(6):549-54.
Field AS, Milner Junior DA. Intestinal microsporidiosis. Clin Lab Med. 2015;35(2):445-59.
Ghosh K, Weiss LM. T cell response and persistence of the microsporidia. FEMS Microbiol Rev. 2012;36(3):748-60.
Didier ES, Stovall ME, Green LC, Brindley PJ, Sestak K, Didier PJ. Epidemiology of microsporidiosis: sources and modes of transmission. Vet Parasitol. 2004;126(1-2):145-66.
Saharia KK, Koup RA. T cell susceptibility to HIV influences outcome of opportunistic infections. Cell. 2013;155(3):505-14.
Didier ES, Weiss LM. Microsporidiosis: not just in AIDS patients. Curr Opin Infect Dis. 2011;24(5):490-5.
Izquierdo F, Castro Hermida JA, Fenoy S, Mezo M, González-Warleta M, Aguila C. Detection of microsporidia in drinking water, wastewater and recreational rivers. Water Res. 2011;45(16):4837-43.
Franzen C. Microsporidia: how can they invade other cells? Trends Parasitol. 2004;20(6):275-9.
Yazar S, Koru Ö, Hamamci B, Çetinkaya Ü, Karaman Ü, Kuk S. Mikrosporidialar ve Mikrosporidiyozis. Turkiye Parazitol Derg. 2013;37:123-34.
Ramanan P, Pritt BS. Extraintestinal microsporidiosis. J Clin Microbiol. 2014;52(11):3839-44.
Anane S, Attouchi H. Microsporidiosis: epidemiology, clinical data and therapy. Gastroenterol Clin Biol. 2010;34(8-9):450-64.
Alkatan HM, Al-Zaaidi S, Athmanathan S. Microsporidial keratitis: literature review and report of 2 cases in a tertiary eye care center. Saudi J Ophthalmol. 2012;26(2):199-203.
Decraene V, Lebbad M, Botero-Kleiven S, Gustavsson A-M, Löfdahl M. First reported foodborne outbreak associated with microsporidia, Sweden, October 2009. Epidemiol Infect. 2012;140(3):519-27.
Rivero-Rodríguez Z, Hernández A, Bracho Á, Salazar S, Villalobos R. Prevalencia de microsporidios intestinales y otros enteroparásitos en pacientes con VIH positivo de Maracaibo, Venezuela. Biomed. 2013;33(4):538-45.
Rigo CR, Franco RMB. Comparison between the modified Ziehl-Neelsen and Acid-Fast-Trichrome methods for fecal screening of Cryptosporidium parvum and Isospora belli. Rev Soc Bras Med Trop. 2002;35(3):209-14.
Checkley W, White Junior AC, Jaganath D, Arrowood MJ, Chalmers RM, Chen XM, et al. A review of the global burden, novel diagnostics, therapeutics, and vaccine targets for cryptosporidium. Lancet Infect Dis. 2015;15(1):85-94.
Chako CZ, Tyler JW, Schultz LG, Chiguma L, Beernsten BT. Cryptosporidiosis in people: it's not just about the cows. J Vet Intern Med. 2010;24(1):37-43.
Murphy K, Travers P, Walport M. Imunobiologia de Janeway. Porto Alegre: Artmed, 2010.
Lodi S, Del Amo J, Moreno S, Bucher HC, Furrer H, Logan R, et al. Opportunistic infections and AIDS malignancies early after initiating combination antiretroviral therapy in high-income countries. AIDS. 2014;28(16):2461-73.
Sancak B, Akyon Y, Ergüven S. Cyclospora infection in five immunocompetent patients in a Turkish university hospital. J Med Microbiol. 2006;55(Pt 4):459-62.
Chacín-Bonilla L. Cyclospora cayetanensis as a global health problem. Epidemiol. 2012;2(3):e110.
desVignes-Kendrick M, Reynolds K, Lee T, Gaul L, Klein K, Irvin K, et al. Notes from the field: outbreaks of Cyclosporiasis – United States, June-August 2013. Centers for Disease Control and Prevention Morb. Mortal. Wkly. Rep (MMWR). 2013;62(43):862.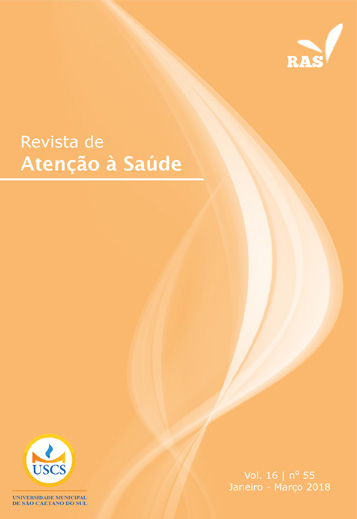 Downloads
Licença
Proposta de Política para Periódicos que oferecem Acesso Livre Adiado

Autores que publicam nesta revista concordam com os seguintes termos:


Autores mantém os direitos autorais e concedem à revista o direito de primeira publicação, com o trabalho licenciado simultaneamente sob uma licença 

https://creativecommons.org/licenses/by-nc-nd/4.0/,  permitindo o compartilhamento do trabalho com reconhecimento da autoria do trabalho e publicação inicial nesta revista.

Autores têm autorização para assumir contratos adicionais separadamente, para distribuição não-exclusiva da versão do trabalho publicada nesta revista (ex.: publicar em repositório institucional ou como capítulo de livro), com reconhecimento de autoria e publicação inicial nesta revista.
Autores têm permissão e são estimulados a publicar e distribuir seu trabalho online (ex.: em repositórios institucionais ou na sua página pessoal) a qualquer ponto antes ou durante o processo editorial, já que isso pode gerar alterações produtivas, bem como aumentar o impacto e a citação do trabalho publicado (Veja

O Efeito do Acesso Livre

).