A Importância da vitamina B12 para a função neurológica e cognitiva: da gestação à infância
Palavras-chave:
Vitamina B 12, Transtornos do Neurodesenvolvimento, Cognição, Gravidez, Aleitamento Materno, Dieta Vegetariana
Resumo
Introdução: A vitamina B12 apresenta importância para o sistema nervoso central, estando envolvida em processos como o desenvolvimento cerebral, mielinização neural e função cognitiva. Objetivo: Examinar as evidências que relacionam a vitamina B12 materna e na infância com o desenvolvimento neurológico e cognitivo. Materiais e métodos: Revisão da literatura dos últimos 60 anos, buscando nas bases SciELO, LILACS, PubMed, MEDLINE e CINAHL. Foram selecionados estudos realizados em humanos do tipo observacional, de coorte, caso-controle e ensaios clínicos, randomizados ou não. Resultados: O status de vitamina B12 materno durante a gravidez e no período da amamentação apresenta influência no status de B12 dos filhos. Durante a infância a deficiência de B12 se correlaciona com falhas no desenvolvimento cerebral e no crescimento, enquanto os dados sobre sua influência em parâmetros cognitivos infantis apresentam resultados conflitantes. Mulheres veganas ou vegetarianas devem garantir uma ingestão adequada de vitamina B12 para fornecer para seu bebê em desenvolvimento uma vez que apresentam maior risco de insuficiência. Conclusões: O status de vitamina B12 materno é um determinante essencial do status de B12 na prole. Ainda é necessário pesquisas para analisar a influência da vitamina B12 na cognição, enquanto seu papel no desenvolvimento cerebral já é bem estabelecido.
Downloads
Não há dados estatísticos.
Referências
Bailey RL, West KP, Black RE. The epidemiology of global micronutrient deficiencies. Annals of Nutrition e Metabolism. 2015; 66(2):22-33.
Darnton-Hill I. Public Health Aspects in the Prevention and Control of Vitamin Deficiencies. Current Developments in Nutrition. 2019; 3(9)1-14.
Brito A, Mujica-Coopman MF, Romana DL, Cori H, Allen LH. Folate and vitamin B12 status in Latin America and the Caribbean: an update. Food and Nutrition Bulletin. 2015; 36(2):109-118.
Addison T. Anaemia-disease of the suprarenal capsules. Medical Gazette 1949; 43:517–18.
Scott JM, Molloy AM. The discovery of vitamin B12. Annals of Nutrition e Metabolism. 2012; 61(3):239-245.
Venkatramanan S, Armata IE, Strupp BJ, Finkelstein JL. Vitamin B-12 and Cognition in Children. Advances in Nutrition. 2016; 7(5):879-888.
Bahadir A, Reis PG, Erduran E. Oral vitamin B12 treatment is effective for children with nutritional vitamin B12 deficiency. Journal of Paediatrics and Child Health. 2014; 50(9):721-725.
Cobayashi F, Tomita LY, Augusto RA, D`Almeida V, Cardoso MA. Genetic and environmental factors associated with vitamin B12 status in Amazonian children. Public Health Nutrition. 2015; 18(12):2202-2210.
Ramírez-Vélez R, Correa-Bautista JE, Martínez-Torres J, Meneses-Echávez JF, Lobelo F. Vitamin B12 concentration and its association with sociodemographic factors in Colombian children: Findings from the 2010 National Nutrition Survey. Nutrition. 2016; 32(2):255-259.
Obeid R, Heil SG, Verhoeven MMA, Van den Heuvel EGHM, Groot LCPGM, Eussen SJPM. Vitamin B12 intake from animal foods, biomarkers and health aspects. Frontiers in Nutrition. 2019; 6:93.
Watanabe F, Yabuta Y, Tanioka Y, Bito T. Biologically active vitamin B12 compounds in foods for preventing defificiency among vege tarians and elderly subjects. Journal of Agricultural and Food Chemistry. 2013; 61(28): 6769–75.
USDA. Composition of foods raw, processed, prepared. USDA National Nutrient Database for Standard Reference, release 27. Washington (DC): 2015
Festen HP. Intrinsic factor secretion and cobalamin absorption. Physiology and pathophysiology in the gastrointestinal tract. Scandinavan Journal of Gastroenterology. 1991; 188:1-7.
Allen LH, Miller JW, Groot L, Rosenberg IH, Smith AD, Refsum H, Raiten DJ. Biomarkers of Nutrition for Development (BOND): Vitamin B-12 Review. Journal of Nutrition. 2018; 148(4):1995S-2027S.
Allen LH. Bioavailability of vitamin B12. International Journal for Vitamin and Nutrition Research. 2010; 80(4–5):330–5.
Doets EL, In 't Veld PH, Szczecinska A, Dhonukshe-Rutten RA, Cavelaars AE, van 't Veer P, Brzozowska A, de Groot LC. Systematic review on daily vitamin B12 losses and bioavailability for deriving recommendations on vitamin B12 intake with the factorial approach. Annals of Nutrition and Metabolism. 2013; 62(4):311–22.
Kretchmer N, Beard JL, Carlson S. The role of nutrition in the development of normal cognition. American Journal of Clinical Nutrition. 1996; 63:997S–1001S.
Georgieff MK. Nutrition and the developing brain: nutrient priorities and measurement. American Journal of Clinical Nutrition. 2007; 85:614S–20S.
Thompson RA, Nelson CA. Developmental science and the media. Early brain development. American Psychology. 2001; 56:5–15.
Lövblad K, Ramelli G, Remonda L, Nirkko AC, Ozdoba C, Schroth G. Retardation of myelination due to dietary vitamin B12 deficiency: cranial MRI findings. Pediatric Radiology. 1997; 27:155–8.
Reynolds E. Vitamin B12, folic acid, and the nervous system. Lancet Neurology. 2006; 5:949–60.
Black MM. Effects of vitamin B12 and folate deficiency on brain development in children. Food and Nutrition Bulletin. 2008; 29(2):S126–31.
Rush EC, Katre P, Yajnik CS. Vitamin B12: one carbon metabolism, fetal growth and programming for chronic disease. Eurepean Journal of Clinical Nutrition. 2014; 68:2–7.
Lozoff B, Georgieff MK. Iron deficiency and brain development. Seminars Pediatric in Neurology. 2006; 13:158–65.
Metz J. Cobalamin deficiency and the pathogenesis of nervous system disease. Annual Review of Nutrition. 1992; 12:59–79.
Scalabrino G, Veber D, Mutti E. Experimental and clinical evidence of the role of cytokines and growth factors in the pathogenesis of acquired cobalamin-deficient leukoneuropathy. Brain Research Reviwes. 2008; 59(1):42– 54.
Serin HM, Arslan EA. Neurological symptoms of vitamin B12 deficiency: analysis of pediatric patients. Acta Clinica Croatica. 2019; 58(2):295–302.
Tangney CC, Tang Y, Evans DA,Morris MC. Biochemical indicators of vitamin B12 and folate insufficiency and cognitive decline. Neurology. 2009; 72(4):361–7.
Moore E, Mander A, Ames D, Carne R, Sanders K, Watters D. Cognitive impairment and vitamin B12: a review. International Psychogeriatrics. 2012; 24(4):541–56.
Smith AD, Refsum H. Do we need to reconsider the desirable blood level of vitamin B12? Journal of Internal Medicine. 2012; 271(2):179–82.
Eastley R, Wilcock GK, Bucks RS. Vitamin B12 deficiency in dementia and cognitive impairment: the effects of treatment on neuropsychological function. International Journal of Geriatric Psychiatry. 2000; 15(3):226–33.
Ramakrishna T. Vitamins and brain development. Physiological Research. 1999; 48: 175–87.
Finkelstein JL, Kurpad AV, Thomas T, Srinivasan K, Duggan C. Vitamin B 12 status in pregnant women and their infants in South India. Eurepean Journal of Clinical Nutrition. 2017; 71(9):1046-1053.
Pepper MR, Black MM. B12 in fetal development. Seminars in Cell and Developmental Biology. 2011; 22:619–23.
Bhate V, Deshpande S, Bhat D, Joshi N, Ladkat R, Watve S, Fall C, de Jager CA, Refsum H, Yajnik C. Vitamin B12 status of pregnant Indian women and cognitive function in their 9-year-old children. Food and Nutrition Bulletin. 2008; 29:249–54.
Veena SR, Krishnaveni GV, Srinivasan K, Wills AK, Muthayya S, Kurpad AV, Yajnik CS, Fall CH. Higher maternal plasma folate but not vitamin B-12 concentrations during pregnancy are associated with better cognitive function scores in 9- to 10-year-old children in South India. Journal of Nutrition. 2010; 140:1014–22.
Bhate VK, Joshi SM, Ladkat RS, Deshmukh US, Lubree HG, Katre PA, Bhat DS, Rush EC, Yajnik CS. Vitamin B12 and folate during pregnancy and offspring motor, mental and social development at 2 years of age. Journal of Developmental Origins of Health and Disease. 2012; 3:123–30.
Wu BT, Dyer RA, King DJ, Richardson KJ, Innis SM. Early second trimester maternal plasma choline and betaine are related to measures of early cognitive development in term infants. PLoS One. 2012; 7:e43448.
Bonilla C, Lawlor DA, Taylor AE, Gunnell DJ, Ben-Shlomo Y, Ness AR, Timpson NJ, St Pourcain B, Ring SM, Emmett PM, et al. Vitamin B-12 status during pregnancy and child's IQ at age 8: a Mendelian randomization study in the Avon longitudinal study of parents and children. PLoS One. 2012; 7:e51084.
Boeke CE, Gillman MW, Hughes MD, Rifas-Shiman SL, Villamor E, Oken E. Choline intake during pregnancy and child cognition at age 7 years. American Journal of Epidemiology. 2013; 177:1338–47.
Del Río Garcia C, Torres-Sanchez L, Chen J, Schnaas L, Hernandez C, Osorio E, Portillo MG, Lopez-Carrillo L. Maternal MTHFR 677C>T genotype and dietary intake of folate and vitamin B(12): their impact on child neurodevelopment. Nutritional Neuroscience. 2009; 12:13–20.
Srinivasan K, Thomas T, Kapanee ARM, Ramthal A, Bellinger DC, Bosch RJ, Kurpad AV, Duggan CP. Effects of maternal vitamin B12 supplementation on early infant neurocognitive outcomes: a randomized controlled clinical trial. Maternal and Child Nutrition. 2017; 13(2):e12325.
Thomas S, Thomas T, Bosch RJ, Ramthal A, Bellinger DC, Kurpad AV, Duggan CP, Srinivasan K. Effect of Maternal Vitamin B12 Supplementation on Cognitive Outcomes in South Indian Children: A Randomized Controlled Clinical Trial. Maternal and Child Health Journal. 2019; 23(2):155-163.
Allen LH. Vitamin B12 metabolism and status during pregnancy, lactation and infancy. Advances in Experimental Medicine and Biology. 1994; 352: 173-186.
Rasmussen SA, Fernhoff PM, Scalon KS. Vitamin B12 deficiency in children and adolescents. Journal de Pediatria. 2001; 138(1):10-7.
Bousselamti A, Hasbaoui BE, Echahdi H, Krouile Y. Psychomotor regression due to vitamin B12 deficiency. Pan African Mecial Journal. 2018; 30:152.
Smith AD, Warren MJ, Refsum H. Vitamin B 12. Advances in Food and Nutrition Research. 2018; 83:215-279.
Eilander A, Muthayya S, van der Knaap H, Srinivasan K, Thomas T, Kok FJ, Kurpad AV, Osendarp SJ. Undernutrition, fatty acid and micronutrient status in relation to cognitive performance in Indian school children: a cross-sectional study. Britsh Journal of Nutrition. 2010;103:1056–64.
Strand TA, Taneja S, Ueland PM, Refsum H, Bahl R, Schneede J, Sommerfelt H, Bhandari N. Cobalamin and folate status predicts mental development scores in North Indian children 12–18 mo of age. American Journal of Clinical Nutrition. 2013;97:310–7.
Duong MC, Mora-Plazas M, Marin C, Villamor E. Vitamin B-12 deficiency in children is associated with grade repetition and school absenteeism, independent of folate, iron, zinc, or vitamin a status biomarkers. Journal of Nutritin 2015;145:1541–8.
Ahmadi A, Sohrabi Z, Eftekhari MH. Evaluating the relationship between breakfast pattern and short-term memory in junior high school girls. Pakistan Journal of Biological Sciences. 2009;12:742–5.
Gewa CA, Weiss RE, Bwibo NO, Whaley S, Sigman M, Murphy SP, Harrison G, Neumann CG. Dietary micronutrients are associated with higher cognitive function gains among primary school children in rural Kenya. Britsh Journal of Nutrition. 2009; 101:1378–87.
Kvestad I, Taneja S, Kumar T, Hysing M, Refsum H, Yajnik CS, Bhandari N, Strand TA. Folate, vitamin BSG. Vitamin B12 and folic acid improve gross motor and problem-solving skills in young North Indian children: a randomized placebo-controlled trial. PLoS One. 2015; 10:e0129915.
Strand TA, Ulak M, Hysing U, Ranjitkar S, Kvestad I, Shrestha M, Ueland PM, McCann A, Shrestha PS, Shrestha LS, Chandyo RK. Effects of vitamin B12 supplementation on neurodevelopment and growth in Nepalese Infants: A randomized controlled trial. PLoS Medicine. 2020; 17(12):e1003430.
Kvestad I, Taneja S, Upadhyay RP, Hysing M, Bhandari N, Strand TA.Vitamin B 12, Folate, and Cognition in 6- to 9-Year-Olds: A Randomized Controlled Trial. Pediatrics. 2020; 145(3):e20192316.
Srikantia SG, Redd V. Megaloblastic anaemia of infancy and vitamin B12. British Journal of Haematololy. 1967; 13(6):949-53.
Lampkin BC, Saunders EF. Nutritional vitamin B12 deficiency in an infant. Journal de Pediatria. 1969.
Marangoni F, Cetin I, Verduci E, Canzone G, Giovannini M, Scollo P, Corsello G, Poli A. Maternal Diet and Nutrient Requirements in Pregnancy and Breastfeeding. An Italian Consensus Document. Nutrients. 2016; 8(10):629.
Craig WJ. Nutrition concerns and health effects of vegetarian diets. Nutrition in Clinical Practice. 2010; 25(6):613-20.
Sklar R. Nutritional vitamin B12 deficiency in a breast-fed infant of a vegan-diet mother. Clinical Pediatrics (Phila). 1986; 25:219–221.
Stollhoff K, Schulte FJ. Vitamin B12 and brain development. European Journal of Pediatrics. 1987; 146:201–205.
Kuhne T, Bubl R, Baumgartner R. Maternal vegan diet causing a serious infantile neurological disorder due to vitamin B12 deficiency. European Journal of Pediatrics. 1991; 150:205–208.
Allès B, Baudry J, Méjean C, Touvier M, Péneau S, Hercberg S, Kesse-Guyot E. Comparison of Sociodemographic and Nutritional Characteristics between Self-Reported Vegetarians, Vegans, and Meat-Eaters from the NutriNet-Santé Study.Nutrients. 2017; 15;9(9):1023.
Allen LH, Rosenberg IH, Oakley GP, Omenn GS. Considering the case for vitamin B12 fortification of flour. Food and Nutrition Bulletin. 2010; 31(1):S36–46.
Allen LH. Pros and cons of increasing folic acid and vitamin B12 intake by fortification. Nestle Nutrition Institute Workshop Series. 2012; 70: 175–83.
Morris MS, Jacques PF, Rosenberg IH, Selhub J. Folate and vitamin B-12 status in relation to anemia, macrocytosis, and cognitive impairment in older Americans in the age of folic acid fortification. Ametican Journal of Clinical Nutrition. 2007; 85(1):193–200.
Brito A, Verdugo R, Hertrampf E, Miller JW, Green R, Fedosov SN, Shahab-Ferdows S, Sanchez H, Albala C, Castillo JL, et al. Vitamin B-12 treatment of asymptomatic, deficient, elderly Chileans improves conductivity in myelinated peripheral nerves, but high serum folate impairs vitamin B-12 status response assessed by the combined indicator of vitamin B-12 status. Ametican Journal of Clinical Nutrition. 2016; 103(1):250–7.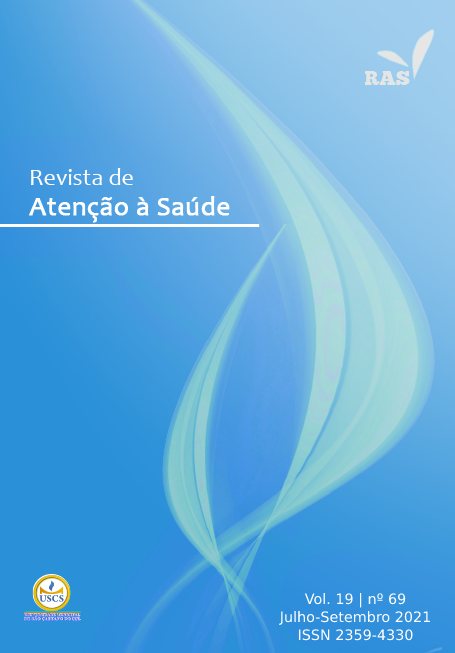 Downloads
Publicado
2021-10-02 — Atualizado em 2021-10-21
Licença
Copyright (c) 2021 Priscila Berti Zanella, Emmanuela Oliveira Caúla Garzone
Este trabalho está licenciado sob uma licença Creative Commons Attribution-NonCommercial-ShareAlike 4.0 International License.
Proposta de Política para Periódicos que oferecem Acesso Livre Adiado

Autores que publicam nesta revista concordam com os seguintes termos:


Autores mantém os direitos autorais e concedem à revista o direito de primeira publicação, com o trabalho licenciado simultaneamente sob uma licença 

https://creativecommons.org/licenses/by-nc-nd/4.0/,  permitindo o compartilhamento do trabalho com reconhecimento da autoria do trabalho e publicação inicial nesta revista.

Autores têm autorização para assumir contratos adicionais separadamente, para distribuição não-exclusiva da versão do trabalho publicada nesta revista (ex.: publicar em repositório institucional ou como capítulo de livro), com reconhecimento de autoria e publicação inicial nesta revista.
Autores têm permissão e são estimulados a publicar e distribuir seu trabalho online (ex.: em repositórios institucionais ou na sua página pessoal) a qualquer ponto antes ou durante o processo editorial, já que isso pode gerar alterações produtivas, bem como aumentar o impacto e a citação do trabalho publicado (Veja

O Efeito do Acesso Livre

).